| | |
| --- | --- |
| | |
| GMC Sierra 1500 | Ford F-150 |
Comparing the 2022 GMC Sierra 1500 and the 2022 Ford F-150
Finding the right truck might seem like an impossible task, but our team is here to help! We want to show you the similarities and differences between top options like the 2022 GMC Sierra 1500 and the 2022 Ford F-150. Our comparison looks at the most popular features and specs to ensure you have a clear view of each, making it easier to find the right truck for every errand, commute, job, project, and road trip.
The 2022 GMC Sierra 1500 is a popular option for drivers that don't want to settle for a basic truck. The wide range of interior refinements and powerful performance allow you to find a combination tailored to your needs. A diverse assortment of trims gives you the best chance of finding the luxurious features or options you want in your next vehicle.
The 2022 Ford F-150 proves why the F-150 has been a popular truck for a long time. You might think it is a top contender for your driveway with dependable performance, impressive capabilities, and advanced features, but our comparison could show you otherwise. Our experts want to show you how the Sierra 1500 comes out on top when looking at some of the most important traits of each truck.
You deserve a truck as capable as your lifestyle, and our comparison aims to narrow the field. We've researched each popular option by reading press releases, independent reviews, and OEM websites to provide the clearest view of your options. Shopping with Darrell Waltrip Buick GMC means you won't need to spend hours searching for the information you need because our team has it all in one place.
Reach out to our team if you have any questions about the truck you are interested in. Our goal is to provide all the information you need in our comparison but understand that every driver has unique needs and preferences when buying their next vehicle. Feel free to call, email, or visit our team when you want to learn more about buying a new truck!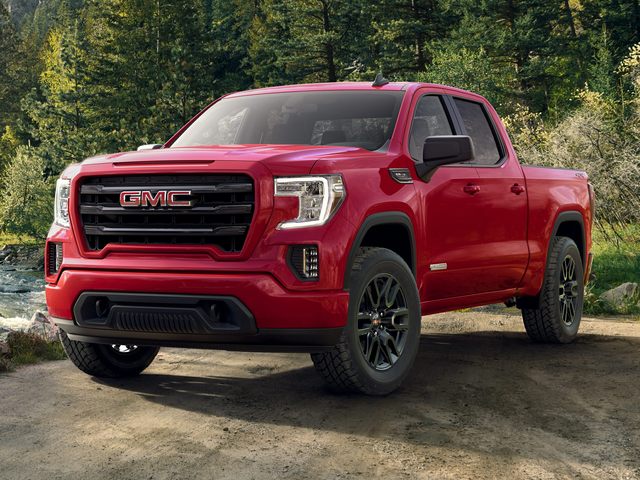 2022 GMC Sierra 1500 vs 2022 Ford F-150
The 2022 Sierra 1500 has a more powerful base engine than the 2022 Ford F-150, meaning you might not need to upgrade for the power you're looking for.
You can choose between an eight-speed automatic or ten-speed automatic transmission for the 2022 Sierra 1500. The 2022 Ford F-150 only offers a ten-speed automatic transmission.
The infotainment screen of a 2022 GMC Sierra 1500 ranges from 7.0 inches to 13.4 inches, while the 2022 Ford F-150 has a maximum screen size of 12.0 inches.
There's more front legroom in the 2022 Sierra 1500 than the 2022 Ford F-150 to keep you and your passengers comfortable throughout every drive.
Ford has discontinued the diesel engine for its 2022 Ford F-150, but the 2022 Sierra 1500 has an available turbo-diesel powertrain.
Both models have an available arrangement of driver assistance systems to feel confident on busy roads and highways.
The 2022 Sierra 1500 has longer bed options than the 2022 Ford F-150.
Drivers looking for an off-roading truck can find dedicated trims for each model to provide the most impressive capabilities and performance.
Android Auto™ and Apple CarPlay® integration are standard for both models, with wireless versions of each system on upgraded trim levels.
Both models come standard with rear-wheel drive and have four-wheel drive available.