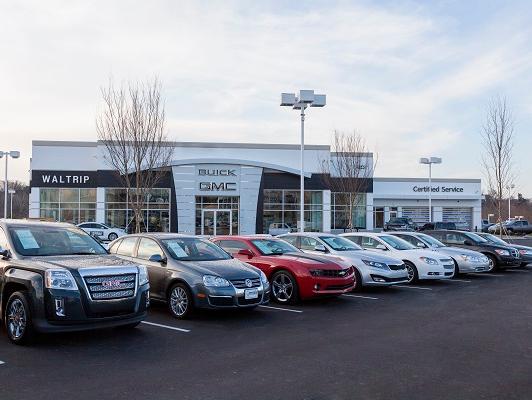 Darrell Waltrip Buick GMC is a full-service auto dealer in middle Tennessee located in Franklin minutes away from Nashville. We opened our doors and began serving customers during early 2014. Our dealership was established by the Darrell Waltrip Automotive Group, so it combines state-of-the-art facilities with decades of experience. We offer pickup trucks, luxury cars, vans, SUVs and sedans. Our free services and equitable practices set us apart from other dealers in the region.  We were named a 2019 Buick Dealer Of The Year by GM and are ready to show you why!
Buying a Vehicle
Many people dislike shopping for cars because they don't enjoy high-pressure sales pitches. The friendly staff at Darrell Waltrip 
Buick GMC
 treats customers with respect and doesn't resort to these tactics. We'll help you choose the right model by answering your questions and providing you with accurate information. Our Price Assurance Guarantee ensures that you'll always find the best deals on new and 
used vehicles
 at Darrell Waltrip.

After the Sale

Darrell Waltrip Buick GMC understands that a business can't succeed without loyal customers. If you're unsatisfied with a vehicle for any reason, we'll let you exchange it within 72 hours. We also provide a range of services and guarantees that represent our commitment to ensure that every car meets customer expectations.
During the first year after you buy a vehicle from us, a. Our dealership also supplies a one-year warranty that replaces your tires if they are damaged due to road hazards. Furthermore, you'll receive free roadside assistance until you stop driving the vehicle. Darrell Waltrip Buick GMC offers free car washes and yearly inspections as well.

Top-Notch Service
Our 20-bay state of the art 
service center
 employs GM certified technicians and uses sophisticated maintenance equipment. For greater convenience, it stays open late on Tuesday and Saturday evenings. You can wait in our comfortable lounge and use a free wireless Internet connection while your kids enjoy the playroom. If you need to leave, we'll gladly provide you with a reliable loaner car. Our dealership also supplies a wide range of GM-approved auto accessories and replacement parts.
Financing Options
Darrell Waltrip Buick GMC helps buyers find ways to pay for new and used cars. Our professional staff cooperates with a variety of lenders to arrange suitable payment plans. You may discuss financing options at the dealership or fill out our online application. If you want to replace your current vehicle, we can also offer a generous trade-in credit. We'll add $500 to your car's value when you have us preform the manufacturer's recommended maintenance at our service center.
To sum it up, the helpful staff at Darrell Waltrip Buick GMC makes car ownership as easy and affordable as possible. Please visit our dealership for all of your automotive needs. To schedule a service appointment, dial
615-861-2892
(844) 293-3414
. You can find our showroom on Murfreesboro Road in Franklin, Tennessee. Feel free to call 
615-861-2892
 or browse the online catalog for more details on our current inventory
Sales Hours
Monday

9:00 am - 8:00 pm

Tuesday

9:00 am - 8:00 pm

Wednesday

9:00 am - 8:00 pm

Thursday

9:00 am - 8:00 pm

Friday

9:00 am - 8:00 pm

Saturday

9:00 am - 8:00 pm

Sunday

12:00 pm - 6:00 pm
Service Hours
Monday

7:00 am - 6:00 pm

Tuesday

7:00 am - 6:00 pm

Wednesday

7:00 am - 6:00 pm

Thursday

7:00 am - 6:00 pm

Friday

7:00 am - 6:00 pm

Saturday

8:00 am - 4:00 pm

Sunday

Closed
Parts Hours
Monday

7:00 am - 6:00 pm

Tuesday

7:00 am - 8:00 pm

Wednesday

7:00 am - 6:00 pm

Thursday

7:00 am - 6:00 pm

Friday

7:00 am - 6:00 pm

Saturday

8:00 am - 4:00 pm

Sunday

Closed