In 2017, the Franklin Special School District (FSSD) Executive PTO began exploring better ways to engage community organizations and resources in support of students and families with critical needs. With a "free and reduced" lunch population hovering at 40%, the FSSD has children who sometimes arrive at school without basic needs met. Immediate daily needs can range from improper or inadequate clothing, inappropriate shoes for physical education classes, missing supplies, and hunger. The schools provide free and reduced breakfast and lunch. And weekend "fuel bags" and mobile pantries are available through GraceWorks and One Generation Away. However, there are occasions when clothing is needed on an immediate basis.
To address this issue and take some of the pressure off of school staff working diligently to meet the needs of all students, parent volunteers, working in collaboration with the administrators, counselors and teachers in the district established a resource center provides new shoes, socks, underwear, coats, basic and hygiene items that can be delivered by a volunteer on demand at the request of a teacher, nurse, counselor or social worker. And NOOK, Needs of our kids, was born.
In just two years this incredible group has gained their 501c3 status, expanded to serve several high schools in Williamson County and has provided supplies to hundreds of students. In honor of the work they are doing we honor them as our 97th Hometown Hero.
Camp Will is a seven week summer day camp for children, adolescents, and young adults, ages 6-23 years, with developmental and/or intellectual disabilities. Campers with disabilities like Down syndrome, cerebral palsy, seizure disorders, autism spectrum disorder and more are able to enjoy a typical summer camp experience that includes swim outings, arts and crafts, sports, special events and more. Hosted by Williamson County Parks and Rec they offer two camp sites (Pearre Creek and Crockett), with up to 60 campers per site. At each site, campers are divided into smaller groups (campers are divided by age). Each individual group has around 8-12 campers, with 3 counselors and 1 head counselor. The summer of 2019 Camp Will hosted more than 150 campers!
Vickie Harris, Music City Animal Rescue
Vickie Harris created and runs Music City Animal Rescue, a non-profit 501(c)3 organization that rescues abandoned, abused or neglected animals in and around the Middle Tennessee area. Music City Animal Rescue is a foster based home network of highly dedicated individuals that care for the animals in their own homes until they can find their forever families. This network is dedicated to the complete care and placement process. From the moment an animal comes into their program, it is treated as part of a family. They are socialized not only with other humans, but with cats and dogs at the appropriate time. They never euthanize to make room for more and all of their foster homes are dedicated to seeing each and every animal through their journey to their forever home.
Kiley Maupin, My Friend's House
Kiley Maupin has spent the last 15 years serving at risk youth in need at My Friend's House. As the Direct Support Services Manager Kiley helps ensure compliance with programs and services, all while supporting and staff and residents with structure and understanding.  But beyond the policies and training, most importantly, Kiley is a mentor and shining example to the vulnerable youth who call My Friend's House home. 
Over the years Kiley has worked with hundreds of young men showing them what it means to take responsibility for your actions; how to have patience with others; how to behave appropriately in the public; and the importance of serving the community. But one of his driving motivations is teaching the residents the difference between being a male and being a man. 
One My Friend's House's former residents stated it best, "We talked about why it was right to own up to our mistakes and how in doing that you grow into a man. I learned a lot spiritually and a lot clicked with my life situation. I'm very thankful for Mr. Kiley and the opportunity to be at My Friend's House."
Debbie Noland, Nolensville Food Pantry
It's difficult to put into words all that Debbie Noland does and is to the Nolensville community. Simply put Debbie is the backbone of the Nolensville Food Pantry. As the pantry's primary coordinator she works to feed those in need. She along with a group of committed volunteers make up Nolensville's only food pantry.
The Nolensville Food Pantry comes alongside families during difficult times to love on them. The pantry helps with immediate needs of food, household, and personal goods. Their mission is to encourage, support and love families the way God loves us, unconditionally.
Sarah Hart, Achilles International, Nashville Chapter
Sarah Hart founded the Nashville Chapter of Achilles International, a nonprofit whose sole purpose is to partner athletes with and with out disabilities so that all can enjoy the sport of running and participating in running activities and events.  Specialized programs include the Achilles Freedom Team which serves wounded military personnel and veterans; Achilles Kids which provides training, race opportunities, and an in-school program for children with disabilities; the Achilles Para-triathlon Team which expands our running program into biking and swimming; Achilles Chapter workouts, plus our signature race Hope & Possibility® which takes place in several cities worldwide.
Marianne Schroer has spent a lifetime caring for others and being of service to her community.  This extends beyond her 30+ years of experience working as a therapist.  Marianne is the type of person who sees people, is driven to help others and shows up to help in the hardest of situations to lend a helping hand.  
For the past five years Marianne has helped take CASA (Court Appointed Special Advocates) to the next level, fundraising and  creating a community awareness around the work CASA does and helping to recruit advocates for the 25+ new cases a month.  
CASA advocates for abused and neglected children in the juvenile court system.  Their vision is for every child to be in a safe and permanent home.  
For her work with CASA and a lifetime of service she was recently named a Darrell Waltrip Automotive Group Hometown Hero.    As a part of her award the Darrell Waltrip Automotive Group made a $500 donation to CASA in Marianne's honor.  
CASA relies on donations from fundraising events including the upcoming Voices for Children to be held May 2, 2019 at Graystone Quarry. To learn more about Voice for Children and how you can help CASA visit
williamsoncountycasa.org
. 
Donate Life TN has tasked themselves with the important job of educating Tennesseans on the importance of registering to become an organ and tissue donor.  
On average, 20 people die every day from the lack of available organs for transplant. One deceased donor can save up to eight lives through organ donation and can save and enhance more than 100 lives through the lifesaving and healing gift of tissue donation. 
Sunny Rosanbalm, Tucker's House
Established in 2009, Tucker's House helps families determine what modifications are needed in a home to make it a safer environment for a child and those who care for the child.  After the determination has been made, Tucker's House performs the necessary work.  Construction may range from installing a wheel chair ramp to removing carpeting and replacing it with hardwood flooring enabling easier wheel chair mobility.  Based on the needs of the client, renovations often include the widening of doorways, remodeling of bathrooms, including curb-less showers and roll-under sinks.
MDA Providing Hope For Families
The Muscular Dystrophy Association (MDA) has made it their mission to create hope and answers for families living with muscular dystrophy and related diseases that take away physical strength and mobility.   These families are at the heart of everything MDA offers- from clinics to prepare and train them to care for their loved ones to assistance getting them the equipment they may need in their home.
Jacquie Glover, Susan G. Komen
Jacquie Glover could teach lessons about how to turn lemons into lemonade. After receiving the a diagnosis of breast cancer in 2007 during a routine mammogram, Jacquie went through several surgeries and chemo and in her words "came out a stronger person."
"During my diagnosis and recovery having a strong support group and focusing on nutrition and exercise helped me maintain a positive attitude and a healthy mind, body and spirit. Now as a survivor, I enjoy supporting Susan G Komen by fundraising, being a resource for awareness, and helping other women facing breast cancer."
Ronald McDonald House Of Nashville
For more than 23 years, Ronald McDonald House Charities of Nashville has provided a "home away from home" for families of critically ill children receiving care at Nashville area hospitals.
Stephen Huff, The Huff Project
Stephen Huff spent his life as an athlete. He played baseball in college and then played in the pros. He never smoked. He took care of himself. All of these are just some of the reasons it was so shocking that at the age of 29 he was diagnosed with stage IV inoperable lung cancer. As Stephen goes through treatment he his wife Emily have decided to put this horrific experience to work with the creation of The Huff Project. The Huff Project is committed to raising the awareness around lung cancer, destroying the negative stigma that's associated with it, and investing in innovative research to continue the development of successful treatment options.
Gail Powell, High Hopes Development Center
For over a decade Gail Powell has served as the Executive Director of High Hopes Development Center. During this time she has played a key role in helping High Hopes expand and grow to serve the high demand for the inclusive preschool education and physical, occupational, speech and feeding therapies which they offer.
Chris & Elaine Whitney, One Generation Away
Six years ago husband and wife team Chris and Elaine Whitney created One Generation Away, a nonprofit organization that grew from their dream that we can eliminate poverty in our lifetime. OGA provides emergency food service to those in need via mobile pantries, as well as through partnerships with hospitals, social workers, schools, law enforcement, churches, civic groups, and many others who want to wipe hunger off the face of America.
Muscular Dystrophy Association
The Muscular Dystrophy Association (MDA) has made it their mission to create hope and answers for families living with muscular dystrophy and related diseases that take away physical strength and mobility. These families are at the heart of everything MDA offers- from clinics to prepare and train them to care for their loved ones to assistance getting them the equipment they may need in their home.
Mary Ann Parks, The Well Outreach
When Mary Ann Parks moved to middle Tennessee nine years ago to be close to her children she immediately began to look for a place where she could be of service in her new community. She found just that place at The Well Outreach in Spring Hill, Tennessee, serving on their prayer team, in the pantry and working at their events. ? The Well Outreach began as a food pantry in a local church in 2006, with the goal of showing God's love by giving food to those in need. The Well is supported by the generous community in Spring Hill and surrounding areas. Numerous individuals, churches, civic organizations and businesses contribute on a regular basis to insure that no household in Spring Hill, Thompson Station, College Grove, or northern Columbia is without food assistance when needed.
Agape Animal Rescue is dedicated to finding forever homes for abandoned and displaced dogs while educating the public to be more responsible pet owners. From the moment dogs enter their foster program, Agape is dedicated to making a positive difference in these dogs' lives, emotionally, socially, physically, in order to aid in a smooth transition into their forever homes. While in foster care they work to teach their foster dogs basic obedience skills, including proper leash manners and friendly house manners through their Foster Care Training Program.
David & Andrea Gillespie, St. Jude Children's Research Hospital
After watching their nephew battle cancer, Andrea and David Gillespie wanted to do something to not only thank St. Jude Children's Research Hospital for everything they did for their family but in hopes that they can help other families in the same position. David ran the Memphis marathon in 2015 as a St. Jude Hero and raised an incredible $14,000 in 2 weeks. In the Spring of 2017 Andrea joined David and "Team Garrett" raised $12,770 for St. Jude.
Tommy Rhodes, Barefoot Republic Camp & Retreat Center
When Tommy Rhodes was a PhD student at Vanderbilt he had a vision to start a camp that brought together kids from all socioeconomic levels, races and backgrounds. Not long after he had that vision Tommy and his wife sold all of their possessions and began Barefoot Republic. Seventeen years later they welcomed their 10,000th camper and now have camps in three states. Barefoot Republic's overnight campground is located in Kentucky and campers stay in "Swiss family Robinson meets MacGyver" style treehouses.
Survivor Leaders, Thistle Farms
Many Nashville locals are familiar with the Thistle Farms brand. We see it in our grocery stores and enjoy their lavender hand soaps, lotions and candles. What many may not know is how the Survivor-Leaders, graduates of the Thistle Farms program, are paying it forward mentoring other women who have also survived abuse, prostitution and addiction. The Survivor-Leaders are actively involved in not only mentoring newer residents of the program, but also in sharing this work through speaking, and events, with the wider community.
Dr. Donnie Headrick, Casa & The Davis House
"Donnie has gone out of his way time and time again not just for us but for people all in the community," said Darrell Waltrip about Dr. Headrick, his personal vet of 20+ years. "I could tell you stories about things he has done. He's a special man and this was a big honor for me to have him here and present him with this trophy." ? In honor of the countless lives he has impacted during his 40+ years as a practicing vet, Doctor Donnie Headrick was named a Darrell Waltrip Automotive Group Hometown Hero.
Cary Ralph, Williamson Medical Center Foundation
Cary Ralph, RN, spends her days, and often her nights and weekends, helping women who are battling breast cancer learn to navigate their way through the disease. As soon as they are diagnosed, Cary is there with them. She doesn't keep any set hours. She is at the hospital, on the phone, or in her office with a patient whenever they need her. She almost never says no to them. She answers questions, holds their hand during a biopsy, goes into surgery with them, and on and on.
Larissa Featherstone, Vanderbilt Children Hospital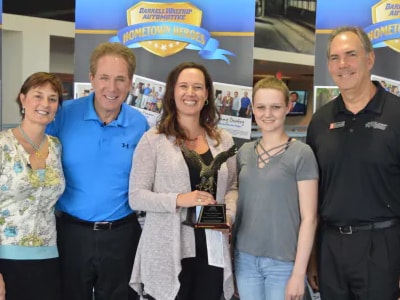 In 2008 Larisa Featherstone's daughter Lily was diagnosed with leukemia and received 2 years of chemotherapy before going into remission. In 2016 they received the devastating news that the cancer was back. Throughout Lily's fight Larisa and her family have diligently worked to raise funds and awareness for Vanderbilt Children's Hospital and children's cancer surpassing their original $1 million goal. They also created the Lily's Garden Endowment which is committed to make a significant contribution to learning more about childhood cancer.
Shawn Aswad, Snooty Giggles
Snooty Giggles Dog Rescue, based in Thompson's Station, TN, began over 10 years ago as a grass roots organization when founder Shawn South-Aswad and her husband began taking in a few dogs here and there who found themselves in need of a place to lay their head until they could find their own home. As time passed they developed a love and special touch with seniors and medical needs dogs that needed more one on one attention and were being overlooked by the general rescue population.
Wilson Family, High Hopes Development Center
"I can't think of anyone who embodies the qualities of a hero more than Jennifer," shared Gail Horton, a dear friend of Jennifer's and her inspiration for exploring foster parenting. "She is a champion for the least of these, the children who are medically fragile and in foster care. Jennifer advocates for these children as if her life depends on it! She is a champion for the children that are in her care. There are some weeks where she spends more time talking to doctors, taking kids to therapy than she is at home. The days at home are filled with sick babies who she rocks and loves on. She not only loves on these babies but also mentors, coaches and empowers the birth families who have not been able to care for their own children. The Wilson family is sacrificial in their giving. Brad, Trent, Liana and Nolan have been a Super Bowl winning team when it comes to working at a calling that God has put on their hearts. I am so proud and privileged to call them my friends."
Michael Fletcher, Franklin Fire Department
Michael Fletcher is a well known public servant in Williamson County. A decorated US Army Veteran, Michael has served as a Lieutenant with the Williamson County Sheriff's Department, a paramedic for Williamson Medical Center EMS and currently serves as the Director of Safety and Security for Williamson County Schools. "'Fletch' has an extremely rare combination of subject matter knowledge, wisdom and empathy," said Jason Golden, Deputy Superintendent, Williamson County Schools.
Luke Jenkins, Leukemia And Lymphoma Society
What started in Kindergarten as a desire to win a class pizza party has turned into a true passion for high school freshman Luke Jenkins. In nine years Luke collected over $3,800, 75% in pennies, for the Leukemia and Lymphoma Society as a part of their Pennies for Patients program. ? "Our next door neighbors, the Riveras, lost their teenage daughter, Dariana, to cancer when Luke was in the 3rd grade," shared Luke's mother Michelle Jenkins. "I think that's when it started getting closer to our hearts as we learned along his path many stories about Leukemia and Lymphoma. Even the GREAT Tom Landry for whom Luke's sister was named after died of Leukemia. Although it is the largest childhood disease of all the cancers, we have learned of many adult stories, too. We have made countless trips to the CoinStar Machines inside the local Kroger during the fundraisers. All donations go straight to the Leukemia and Lymphoma Society at NO charge!"
Jon Boye, Mercy Health Services
Jonathan Boye grew up struggling with dyslexia and ADHD and with the "faith of a mustard seed" he found himself helping thousands of people with similar struggles. Jon has been a visionary for providing mental health services first to our children in Williamson county but now to all ages in all of middle Tennessee," shared Margaret Owens, Chief Operations Officer at Mercy, in her nomination of Boye. "He came to work at Mercy in June of 2006."
A huge part of what keeps St. Jude Children's Hospital going is the efforts of people like Jess Wright. Several years ago Jess committed to walking a local 5K in her hometown of Frederick, Maryland which benefited St. Jude. At the time she wanted to encourage people who never thought they could do an endurance race to join her and walk rather than run and most importantly she wanted to raise funds for St. Jude. What better way to do this than to start her own team.
Roger McDaniel, Building Lives Foundation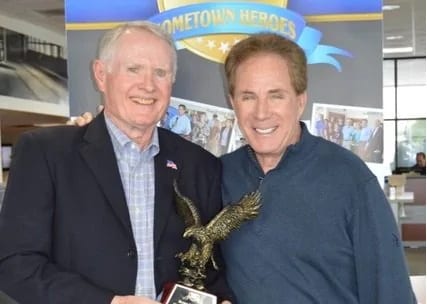 Roger McDaniel is a wonderful example of what it looks like to serve your community well. When not spending time at the office or with his family Roger McDaniel fills up his time mentoring and helping veterans in need get back on their feet, managing and tending a local giving garden and preserving local historical landmarks. ? Tim Gregath, Executive Director of the Building Lives Foundation, a local non-profit committed to assisting veterans in the process of rebuilding their lives, sung Roger's praises in his DWAG Hometown Hero Nomination./div>
Joe Bradford, or Papa Joe as he's known to many, grew up in poverty and after facing time in prison for computer hacking and fighting kidney disease he and his wife Denise were forced to move into one of Nashville's project communities. After seeing needs of the children within this community they were inspired to create Elijah's Heart, a nonprofit organization whose purpose is to show love to underprivileged children and assist them with practical needs. One of the many ways they show love is through their Walks of Love.
Nancy & Ty Osman, Ty2 Foundation
In March of 2012 Ty and Nancy Osman faced the unthinkable when they lost their son Ty. Ty Osman II had a heart for helping others and was a light to everyone around him. Even in his passing he was a gift to many as an organ donor. "After he passed we heard so many stories about how just his regular kindness effected people," shared Ty Jr.'s mother Nancy. "How his smiling and everyday manor made people feel special, and feel loved and seen.
Earl Hensel, Chemo Duck & Mothers Against Drunk Driving (MADD)
Since DWAG's Hometown Heroes started, Earl Hensel has been a part of awarding five different heroes. Earl's heroes have included local veteran Mike Reeder, special needs teacher Jan Lincoln, MADD advocate and survivor Millie Webb, Lu Sipos creator of the Chemo Duck and Paul Fleenor, a local veteran who led the charge to bring the Honor Flight Program to Middle Tennessee. Because of Earl's initiative to nominate these locals, each of his heroes has been celebrated for their accomplishment.
Ed Silva, Heritage Foundation
t's a known fact around town that Franklin's Downtown area hasn't always been so picturesque. The historic area had fallen into much disrepair and businesses were not thriving, that is until the early 1980's when locals like Ed Silva saw the potential and started to change all of that. "Ed Silva provided extraordinary leadership in our journey to establish Franklin's Main Street as the heart of our community", said Mary Pearce, the Heritage Foundation's Executive Director.
Sister Sandra, Project Reflect
In 1992, Sister Sandra founded Project Reflect, a nonprofit organization in Nashville whose mission is "transforming urban America through education and policy reform." As Executive Director, in 2002 she strongly influenced passage of the first charter school legislation for the State of Tennessee. Under the new law, in August 2003 Project Reflect opened Middle Tennessee's first free, public charter school, Smithson Craighead Academy (SCA) elementary school, which serves 240 children from low-income families who reside in the Davidson County area.
Amanda Grieves, Angel Tree Program
Each year the Salvation Army's Angel Tree program gives individuals and partnering corporations an opportunity to adopt less fortunate children and seniors who would otherwise receive very little or nothing during the holiday season and provides them with personalized gifts and necessities. Behind the scenes of the Angel Tree program is an army of volunteers, and alongside them is Amanda Grieves, who coordinates the program each year.
Samantha Ponder, Snowball Express 5K
Snowball Express brings together children of the Fallen right before Christmas to have fun, be together, and just heal. The organization provides an opportunity for children to be with others "like them ", to be "normal " because they often are the only ones in their schools and communities who have lost a parent at war, they just feel different. A feeling Samantha Ponder understands all too well, being the daughter of one of our nation's Fallen.
After years of teaching special education and serving as a JOBS coordinator, which involved a "school to work " transition classroom for young adults with special needs, Brenda Hauk felt led to open a Christian-based job training center for adults who live with developmental disabilities. She visited several facilities, established relationships with mentors, and in 1999, BrightStone opened with 4 students, a volunteer staff of two, and donated space in a local church.
Jimmy Gentry, Wounded Warriors Project
There are few in Williamson County who haven't been impacted by Jimmy Gentry in one way or another. Whether it's been through a simple visit to his family farm to pick pumpkins, in the classroom, on the football field, or by listening to him speak about his experience serving our country in World War II, Gentry's story is an extraordinary one.
Lu Sipos, Gabe's Chemo Duck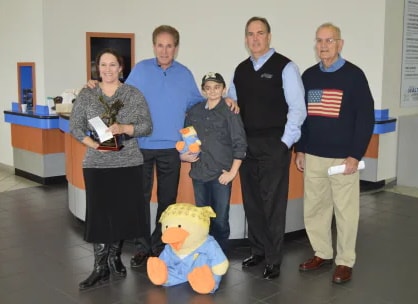 One week before his first birthday, on Christmas Day 2002, Lu Sipos' son Gabe was diagnosed with Rhabdomyosarcoma. He learned how to walk and talk while enduring 30 days of 9 months of Chemotherapy treatments and numerous surgeries. Like many parents, Lu found herself feeling lost during this time, unsure of what her role on her son's medical team looked like. That is until she created the first Chemo Duck.
Peggy Smith, Franklin Boys and Girls Club
Peggy Smith or Ms. Peggy, as she is affectionately called by Club members, is also known as the PBJ lady. Ms. Peggy has been known to not only drop everything to make a child in need a hot meal, she spends up to 5 days a week at the Club preparing and serving snack. She has made it her mission to educate the general public about the challenges faced by the many children that may go hungry during the summer, on the weekends, or simply after the school day has ended.
Mary Mader & Carole Horlacher, Williamson County Animal Services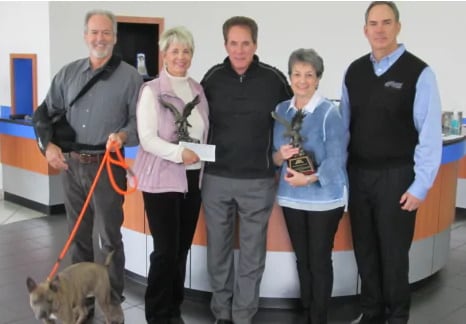 In 2010, Mary Mader and Carole Horlacher became volunteers for Williamson County Animal Services in Franklin. Seeing a need to help the shelter staff, they set up a desk at the front door and implemented a meet and greet strategy for all potential adopters. Mary and Carole know the right questions to ask and daily they help "match " adopters and pets. This process helps insure a good, lasting adoption. They also help with off-site events, coming early and staying late, setting up, keeping up with adoption contracts and other paperwork.
Jerry & Sharon Clement, Take the Reins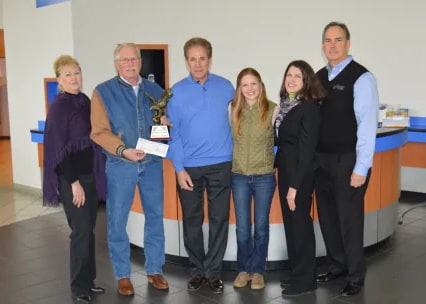 Jerry and Sharon Clement founded Take the Reins, a local equine assisted therapeutic riding ministry for children and youth with physical, emotional, intellectual, and medical challenges in 2011. Born from their passion for horses and interest in working with children, what started as a program with only 3 riders and has grown into a 501(c)3 Corporation serving over 25 riders, 40+ volunteers, and PATH (Professional Association of Therapeutic Horsemanship) Certified Instructors.
Joe Zarcone, Graceworks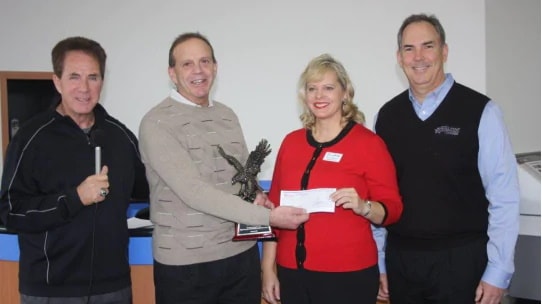 For GraceWorks, Williamson County's largest food bank, the needs of local individuals and families is never ending. Over the years, local grocery store manager Joe Zarcone has been an indispensable tool in helping GraceWorks fulfill these needs for thousands of locals. Working behind the scenes to respond to needs within the community from GraceWorks and numerous other non-profits, Joe has not only utilized his position as store manager to meet those needs whenever possible, he has often worked hands on to help fulfill these needs personally.
Inge Meyring Smith, American Red Cross
Now in her 90's, it is easy to see why when asked about Franklin local, Inge Smith, locals use terms like mentor, treasure and inspiring. Born in Germany, Inge Meyring Smith moved to the States with her parents at the age of 15 to escape the Nazi regime. After marrying Paul Smith, a GI and native of West Tennessee, she moved from New York City to Franklin, Tennessee, where she raised a family, completed multiple degrees at Vanderbilt University and opened numerous schools, including Smith Preschool which has been in business for over 65 years.
Gary Bennett, Cystic Fibrosis Foundation
Autumn Bennett was the light of her parents lives. At the age of one she was diagnosed with Cystic Fibrosis. "She was given a life expectancy of 15 years", said Autumn's Father, Gary. "We were determined to make every year we had with her as great as possible. She loved God, dancing, Disney World, her family and Rusty Wallace. We find comfort in knowing that she breathes and dances with Angels in Heaven." Out of the tragedy of losing their daughter, Gary Bennett and his wife Sharon have remained committed to finding a cure for and supporting those with Cystic Fibrosis.
Lane Brody, Walden's Puddle
As many who have worked with or for a non-profit know , sometimes exactly what you need is the breath of fresh air a new volunteer brings. Such is the case with Walden's Puddle, a professionally staffed wildlife rehabilitation and education facility in Middle Tennessee. "Lane Brody took Walden 's Puddle from a financially and emotionally barren organization to what it is at the moment which is spectacular", said Emily Magid, fellow animal lover and Walden's Puddle volunteer.
Creely Wilson, Christian Women's Job Corps
In October 1997, thanks to the work of Creely Wilson and many others, Christian Women's Job Corps opened its doors at Lockland Baptist Church in East Nashville. The ten women who made up the first class received invaluable help in achieving their GED diplomas and learning computer skills. They grew spiritually through Bible studies and faithful mentoring by volunteers. In the following fifteen years, CWJC moved to a larger location, expanded to three locations, and opened a program for men.
Diane Crosier, Girls on the Run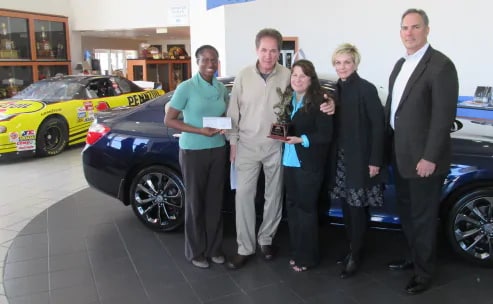 Girls on the Run Nashville is an innovative after-school program that uses the power of running to inspire and prepare Middle Tennessee girls for a lifetime of self-respect and healthy active living. It's goals are to improve the social, physical, emotional and mental well-being of adolescent girls, empowering them with a strong sense of identity and achievement. It's easy to see why the recently retired Board Chair of GOTR, Diane Crosier, is passionate about this mission.
Becky Haynes Shafer, Best Buddies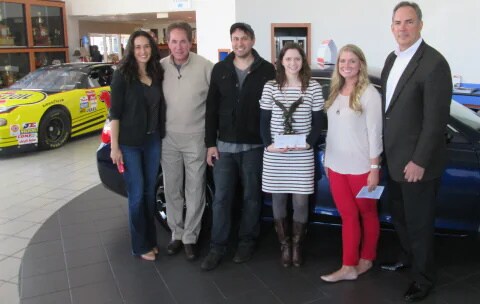 Best Buddies has made it their mission to create opportunities for one-to-one friendships, integrated employment and leadership development for people with intellectual and developmental disabilities. Behind the scenes is an army of volunteers hosting events, creating friendships with Buddies, providing job coaching, and finding socialization and leadership opportunities for those with intellectual and developmental disabilities with the hope of them becoming more independent and included in the community. One of those volunteers is Becky Haynes Shafer.
Dr. Richard Anderson, Grace Medical Clinic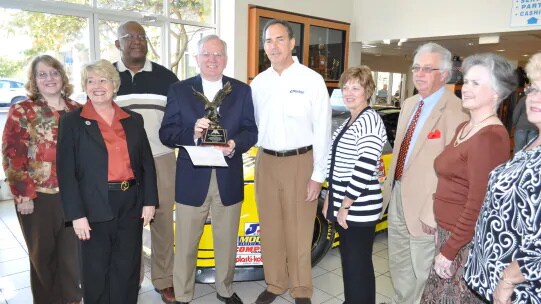 Anderson responded to seeing Katrina hurricane evacuees displaced from their homes, living in Franklin, and left without insurance from jobs they no longer had. He started Grace Medical Clinic by taking time off from his regular practice on Fridays to serve the uninsured population. As the clinic has grown, Anderson now serves both Wednesdays and Fridays, as a Family Doctor for the uninsured. For over 38 years he provided treatment for thousands of insured patients and his persistence has led to him serving a greater population.
Kenny Lane, Tennessee Baptist Children's Home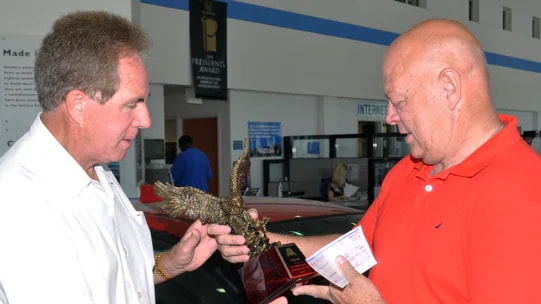 As the former Fire Chief of Brentwood, Kenny Lane served a vital role in the development of Brentwood's Fire Department. He served the Fire Department from the beginning of its inception in 1986 and for 18 years he led the department as the Fire Chief, retiring from the department on June 30th 2011.
Sonya & Drason Beasley, Banebow Inc.
The couple who have three children- Olivia Drae, Bane Alton Drake and Bayo Shalom - found themselves struggling with the everyday tasks of life after loosing their son Bane. Out of this tremendous loss, they started Banebow, an organization which provides mental, physical, and spiritual assistance to families who have sustained the sudden loss of a child.